P/N 504KA- Kuraray Panavia F2.0 Complete Kit Light
$690.76
In Stock
Highlights:
Panavia F 2.0 is a self-etching, dual-cure, fluoride-releasing cement to use with metal, ceramics, and metal-oxides (Zirconia) restorations.Panavia F 2.0 can be curedwith any Halogen, Plasma ARC, or LED light. It contains 2 photo initiators, providing a wider curing and width so you can use any of the currently available curing lights. Panavia F 2.0 is available in 4 shades: opaque, light, white, and tooth color.
Available in both an Introductory and Complete kit (containing Alloy Primer and Ceramic Primer), Panavia F 2.0 has over 20 years of clinical success. By utilizing proprietary MDP technology, the product exhibits legendary bond strength and durability.
Ideal for any procedure with any curing light
NEW self-etching primer
Legendary desensitizing
Strongest bond to metal-oxide ceramics
MDP self-adhesive monomer
Use for cementing:
Metal crowns, bridges, inlays and onlays
Porcelain crowns, inlays, onlays
Ceramic oxide crowns, bridges, inlays and onlays
Composite resin crowns, inlays and onlays
Adhesion bridges
Endodontic cores and prefabricated posts
Amalgam bonding
Compare
Related Products
New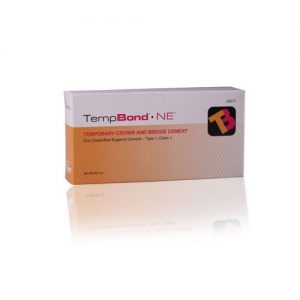 Highlights:
Temp-Bond™ NE Temporary Cement in Automix Syringe delivery is a non-eugenol temporary dental cement that will not inhibit the polymerization of permanent resin cements and acrylic temporaries. It offers a dual cure for added security and flexibility, ease of handling, excellent mechanical retention, and easy removal from preparations.
Flows and mixes easily. Delivers optimal consistency for solid, complete seating of temporary restorations.
High bond strength. Heightens patient confidence. Prevents leakage and sensitivity to cold and heat.
Easy to remove. Enhances patient comfort. Minimizes potential for damage to the prep or temporary restoration.
Minimial sensitivity to cold and heat.
TempBond products have been recognized with a number of awards, including Townie Choice Awards in 2006, 2007, 2008, 2011, and 2012! They were named Dental Advisor Preferred Products in 2009, 2010, 2011, and 2012, and named the Top Temporary Cement in 2008, 2011, and 2012!