P/N 609003- Dentsply Sirona Fynal Liquid Only
$114.80
In Stock
Highlights:
Fynal cement is a polymer-reinforced zinc oxide-eugenol composition. It is used as a non-irritating final cement for finished crowns, bridges, and inlays. Fynal mixes easily to a non-runny consistency that flows only under pressure. This cement provides ample work time but sets promptly. Excess cement is easily removed from the tooth and appliance.
Unique polymer reinforcers
High comprehensive and tensile strength
Low film thickness
Low solubility
Two-component system
Compare
Related Products
New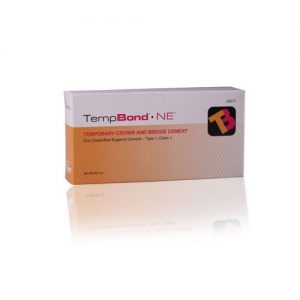 Highlights:
Temp-Bond™ NE Temporary Cement in Automix Syringe delivery is a non-eugenol temporary dental cement that will not inhibit the polymerization of permanent resin cements and acrylic temporaries. It offers a dual cure for added security and flexibility, ease of handling, excellent mechanical retention, and easy removal from preparations.
Flows and mixes easily. Delivers optimal consistency for solid, complete seating of temporary restorations.
High bond strength. Heightens patient confidence. Prevents leakage and sensitivity to cold and heat.
Easy to remove. Enhances patient comfort. Minimizes potential for damage to the prep or temporary restoration.
Minimial sensitivity to cold and heat.
TempBond products have been recognized with a number of awards, including Townie Choice Awards in 2006, 2007, 2008, 2011, and 2012! They were named Dental Advisor Preferred Products in 2009, 2010, 2011, and 2012, and named the Top Temporary Cement in 2008, 2011, and 2012!